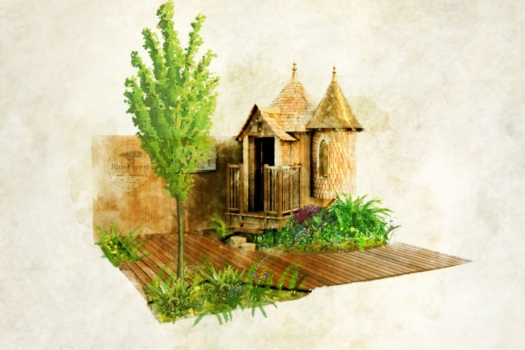 Blue Forest and Kebony are delighted to announce that they will be exhibiting an enchanting, handcrafted children's treehouse at the RHS Chelsea Flower 2016. The Enchanted Playhouse is a fairy-tale retreat for young imaginations to explore, offering a unique outdoor space for adventurous play.
One of the most popular treehouse designs, The Enchanted Playhouse is nestled amongst woodland plants with a blue and white floral scheme and a variety of ferns. Created by Exterior Architecture, the planting design is inspired by childhood memories and recreates the joy and adventure of playing in treetop dens.
Finished in a combination of hand-cut Cedar shingles and featuring a copper turret, the Blue Forest treehouse is designed primarily as a playhouse. There is plenty of space inside for the children to keep their favourite toys, play with friends or sit with a story book in the comfy window seat. Those with an eye for detail will spot numerous other bespoke touches including copper finials, intricate rope work and steam bent Cedar light panels.
The soft planting is set against dark Kebony timber decking to highlight the planting colour and create a strong floral focus to the display. Kebony was chosen for its beauty, hardwearing qualities such as durability, hardness and dimensional stability as well as its environmental credentials. The patented Kebony technology is a unique process that modifies sustainably sourced wood species with furfuryl alcohol, a liquid produced from agricultural crop waste. With the addition of heat the furfuryl polymer is permanently grafted into the wood cell wall, resulting in greatly improved durability and dimensional stability; making the wood resistant to biological decay and harsh weather conditions, without the need for expensive and environmentally-damaging treatments. Initially, Kebony has a deep brown colour – similar to that of tropical hardwoods – but when exposed to light and weathering over time the colour of the wood softens to adopt a delicate silver-grey patina
"We have worked hard to develop a reputation as the world's leading treehouse experts. We have never been to the Chelsea Flower Show before and we can't wait to give to give people a glimpse into our treetop world and experience the vibrant atmosphere of the show!" Andy Payne, Founder Blue Forest
Blue Forest is an award-winning company that specialises in the design and construction of luxurious treehouses and unique sustainable buildings. Since the original concept took shape in 2003, Blue Forest has established a reputation as the world's leading treehouse consultancy, renowned for designing buildings that reflect the environment in which they are built.
Combining creativity and craftsmanship, Blue Forest have undertaken contacts of all sizes around the world from Tongole eco-lodge in Malawi to jungle bridges in the Maldives. Blue Forest design beautiful treetop structures for client's gardens and estates, as well as larger developments such as 'The Treehouses' at Chewton Glen Country House Hotel and adventure play grounds for The National Trust. Each project is a celebration of wood and natural materials and is finished to the very highest standard by our experienced craftsmen.
The Enchanted Playhouse is one of three designs from The Classic Collection, Blue Forest's most popular tree house designs from the past 10 years.