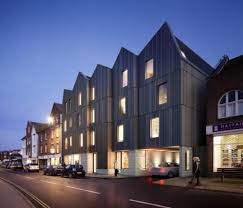 JD Architects (JDA) has recently completed its ambitious redevelopment of Cinque Ports Street, the 1,050 sq. m. former Central Garage site in Rye. Derelict for fourteen years, these buildings have been given a new lease of life with a striking, angular wooden façade made from Kebony. With its clever design and sustainable focus, Cinque Ports Street was announced as a winner at this year's RIBA Regional South East Award.
Influenced by the town's maritime history, the transformed properties, predominantly for residential use but also containing two retail units at ground floor, combine architectural elements inspired by historic imagery of the towns nearby shipyard warehouse and traditional coastal architecture of the East Sussex coastline. Prior to construction, significant archaeological digs and studies were carried out to inform the design parameters and avoid disruption to the remains of Rye's medieval town wall which runs through the site and is protected as a scheduled ancient monument (SAM).
JDA wanted to create a modest design that emphasised the clean lines of traditional maritime architecture and incorporate a large amount of timber cladding, made from beautiful dark-hued Kebony, the sustainable alternative to tropical hardwood. This creates a dramatic outline on the streetscape and the steep pitched roof that angles sharply down at either side ensures the building matches the heights of adjoining buildings. The window placement has also been carefully considered to maximise the views towards Rother Valley, with expansive glass openings to obtain the most light.
The decision to choose Kebony for the cladding was made due to the wood's aesthetic and environmental credentials, being far more environmentally friendly than comparable construction materials. Developed in Norway, the Kebony technology is an environmentally friendly, patented process, which enhances the properties of fast growing sustainable softwood with a bio-based liquid. By impregnating the wood with furfuryl alcohol, the wood's cell wall is polymerised resulting in greatly improved durability and dimensional stability. This process gives the wood a dark colouration, comparable to woods such as mahogany or teak, which perfectly complement the quiet and restrained colour pallet of Cinque Ports Street.
Jonathan Dunn, lead architect on this project commented: "This was a fascinating project to be involved with as we had to come up with a beautiful design that modernised the site while preserving the medieval town wall. Kebony cladding proved to be a fantastic solution, providing a contemporary look which draws on elements of local history and is a great asset for the town of Rye."
Adrian Pye, International Sales Director at Kebony added: "The architects at JDA have done a fantastic job, taking a derelict site and transforming it with a beautiful contemporary design in keeping with the area's history. From the Kebony clad frontage to the carefully considered window placement, a great amount of time and thought has gone into the design details and we are delighted with the end result."