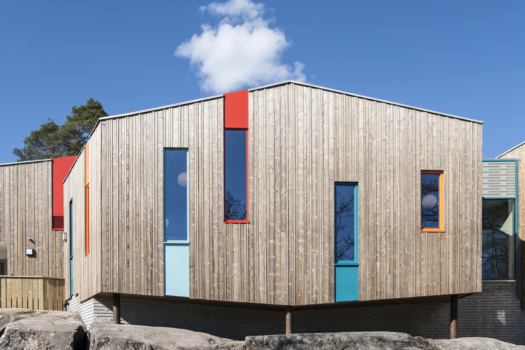 Fredrikstad Waldorf School's newest addition, which will accommodate children from grades 2 – 4 (UK equivalent year 3 – 5) and create a new premises for the school day care facility, was recently opened by Jon-Ivar Nygård, Mayor of Fredrikstad. Located on a picturesque south facing slope and surrounded by trees, the new building, clad in Kebony, is situated on the boundary between the forest and schoolyard. To preserve the natural backdrop to the play area, the building is partly placed on stilts floating above the creek to maintain the natural rock formations on the site and the flow of the little stream through the grounds.
The Waldorf School is a worldwide institution founded in Germany for 'children from all walks of life with all kinds of gifts'. In 1979 a new Waldorf School opened in Fredrikstad, Norway, and now provides education for approximately 200 pupils across the Lower Glomma region. As a Waldorf school, the curriculum is based on the educational philosophy of Rudolf Steiner, founder of Anthroposophy, which places importance on cherishing and respecting the freedom of each individual and emphasises the role of imagination in learning. The ethos of the school is that the intellectual, practical, and artistic development of pupils should be holistically integrated.
The lead architect, Martin Ebert of LINK Arkitektur, has created a distinctive modern building, which draws on the angular design style of traditional anthroposophical architecture. The classrooms are strikingly non-uniform, with an interesting pentagonal shape and impressive high ceilings. The design of communal areas continues this aesthetic, with large windows in bold colours along every wall. Engraved above each window is text from Goethe's Faust, written in Morse code; this is an homage to the history of Waldorf-schools as "Faust" is integral in Rudolf Steiner's interpretation of modern learning and human growth.
For the façade, raw materials such as concrete, wood and steel are used without modification to emphasise the materials' inherent natural beauty. Kebony was chosen for the external wooden cladding to continue this natural aesthetic, but also because the subtle, dappled silver-grey patina complements and enhances the woodland setting. Kebony has strong environmental credentials in its own right, as a sustainable alternative to hardwood that reduces the demand for tropical deforestation. The patented technology enhances sustainable softwood by heating them under pressure with furfuryl alcohol, an agricultural byproduct, so that the softwoods permanently take on the attributes of tropical hardwood including high durability, hardness and dimensional stability.
Martin Ebert, lead architect at Link Arkitektur commented "The creative freedom which the school encourages has carried through to our design, allowing us to make bold creative decisions which have led to an architecture that embodies the principles of an education that focuses on seeing pupils as children instead of students. We've focused on the natural setting of rocks, running water and forest and incorporated this into the design of the project, using natural construction materials and Kebony cladding so that the buildings appear to be a continuation of the woodland."
Mette Valen, Sales Manager at Kebony commented "We've seen LINK Arkitektur use Kebony in their projects before, so we knew they would come up with a great design. The new school buildings look stunning and it's wonderful to see the ecological focus present throughout the whole project."