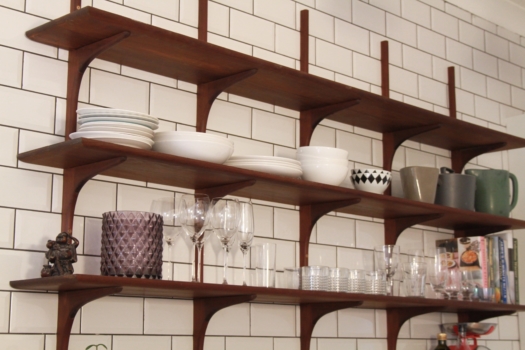 Edward Collinson Design has teamed up with Kebony to create an exciting new range of bespoke wooden shelves, perfect for urban and space-conscious kitchen settings. This range combines a forward looking design of sleek, delicate curves with a mid-century influence, which inspired the choice to use dark Kebony wood.
Edward Collinson Design is a North London-based practice, producing tailored furniture at their studio in Archway. The practice also works with architects and contractors to create complete interiors for kitchens and bathrooms. For this project, the simple, compact design of the modular shelving creates space in cluttered urban settings, while the quality of the Kebony wood instills a refined elegance to the simplicity.
Kebony, the sustainable alternative to tropical hardwood, offered an exciting, progressive solution for the project thanks to its attractive aesthetics and strong environmental credentials. Kebony wood provides the perfect balance of a high performing material, with dark warm hues, which have similar hallmarks to woods such as teak and mahogany. The dark wood and soft curves of the shelving brackets echo the indulgent feel of tradition that Edward Collinson Design sought to achieve. Through the use of an innovative and sustainable material, Kebony adds modernity to this project.
Developed in Norway, the Kebony technology is an environmentally friendly, patented process, which enhances the properties of fast growing sustainable softwood with a bio-based liquid. By impregnating the wood with furfuryl alcohol, the wood's cell wall is polymerised resulting in greatly improved durability and dimensional stability. In offering an alternative solution to the issue of global demand for tropical hardwood, Kebony enables wood to become a major part of sustainable construction projects without the same impact on the environment. The properties of Kebony perfectly complement the refreshing designs of Edward Collinson Design, acting as an ideal material for the hard-wearing requirements of shelving.
Edward Collinson, Lead Designer, commented: 'Kebony is a great material to work with; its beautiful deep brown colour let us introduce a wood into the design which mirrors a traditional style without the use of tropical hardwood.'
Adrian Pye, International Sales Director at Kebony added: 'Edward Collinson has created a fantastic product. You can tell immediately that the team has such passion for their work, and such perfectionism in their projects. The shelving is a wonderful example of the stunning results that can be achieved with great design and top quality materials. We look forward to working together with Edward Collinson Design in the future.'
Instagram: @edward_collinson