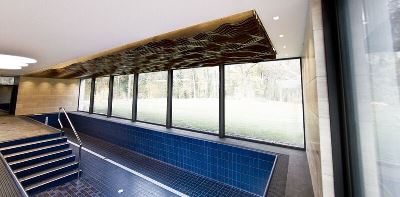 M-S Pro Architects announce the completion of an indoor swimming pool in a state-of-the-art, single storey family home set in a picturesque location on the outskirts of Bratislava – one of Europe's youngest capital cities. Kebony, a beautiful wood recommended by leading architects, was chosen to craft the ceiling of the swimming pool, which is designed to emulate rippling waves as well as for the terrace deck and structural beams.
Sustainability and a desire to recreate the close proximity often seen between wood and water in the natural environment were primary focuses in the design of this project. This led a requirement for a low maintenance wood, compatible humidity and with advanced durability, for the swimming pool ceiling. In addition, a high level of precision when cutting the wood was required in order to achieve the desired appearance of waves.
Supplied by Leading Market, Kebony was carefully selected for the pool ceiling, which consists of 490 lamellae of timber, due to its versatility, durability and environmental credentials. Kebony was also installed throughout the exterior of this property, both for the spacious outdoor terrace and the exterior and interior beams. One of the reasons to choose Kebony was the unified look of wood in all these different applications.
Developed in Norway, the patented Kebony technology uses an environmentally friendly process, which permanently enhances the properties of sustainable softwood with a bio-based liquid derived from agricultural crop waste. By polymerising the wood's cell wall with furfuryl alcohol, the wood gains greatly improved durability and dimensional stability, giving it characteristics similar to those of tropical hardwood. In creating a wood with comparable properties to tropical hardwood that can be grown in a FSC certified, sustainably managed forest, the demand for tropical woods is reduced, allowing timber to once again be an important part of sustainable construction.
Tomáš Hubinský, Lead Architect at M-S Pro, commented: "From conception through to completion, the creation of this ceiling has been a real feat. Despite the challenges faced by such an intricate design, Kebony was the perfect material to convey our desired effect of waves rippling along the ceiling. We will continue to incorporate Kebony into our interior and exterior designs, with wood fast becoming the first choice material for all architects."
Mette Valen, Sales Manager Norway at Kebony, explained: "The distinctive nature of this design cleverly portrays the capability of Kebony, demonstrating both the aesthetic and performance qualities of the product. We would be honoured to work with M-S Pro in the future and look forward to seeing how they utilise Kebony in their future projects."