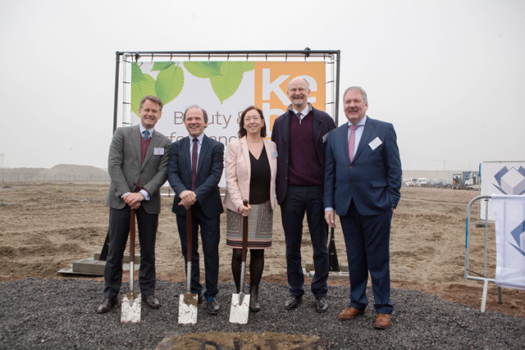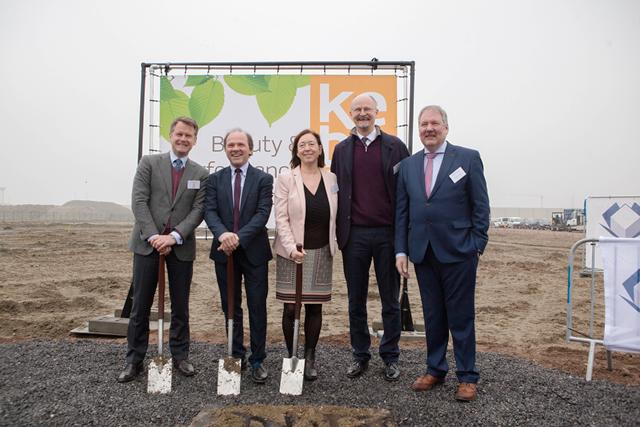 On Wednesday 8th February, Philippe Muyters, Flemish Minister for Work, Economy, Innovation and Sports, visited the site of Kebony's second European factory, to celebrate the groundbreaking of this new facility. This milestone comes one year after Kebony announced that €19.05 million (177.5 million NOK) had been raised to build the new facility, which included investment from Flemish company PMV. The new factory marks the beginning of a new chapter for Kebony, enabling the company to expand in line with demand.
Work has now begun on the new factory in the Flanders region of Belgium, bringing with it €20 million of investment for the Belgian economy and the creation of 25 local jobs. Spanning 2 hectares the factory will initially produce 20,000m3 of Kebony wood each year, however, if required an additional 2 hectares of land can be developed enabling the workforce to double with the potential to increase output to 40,000m3. The plant is located next to the site of the chemical company LANXESS, at the Scheldt Chemical and Industrial Park (ScCIP) in Kallo, which will deliver utilities and site services to its new neighbour.
The new factory will be in the vicinity of Kebony's machining partner, Rudy De Keyser, in Kruibeke. Kebony has confirmed agreements already with several wood retail companies through the master importer Martens Hout in Antwerp and Limburg. These retailers include: Vandenbroucke in Beernem, Biemar bois in Soumagne, Carlier bois in Namur, Huart bois in Houdeng-Goegnies, and Hoffman Freres in Luxemburg.
Kebony is an enhanced natural wood product embraced by leading architects across the globe. Kebony is durable, requires no maintenance beyond normal cleaning and is used in a variety of applications, including decking and cladding. The company has experienced a continued annual growth, with international sales rising by an average of 35% year on year for the last six years. Subsequently demand for this material has now exceeded the current production capacity at Kebony's existing factory in Vold, Norway. Operating on a global scale, with distributors in Europe, Scandinavia, the Middle East, Asia and America, Kebony is now able to increase its capacity, accelerate growth in line with demand and open new market opportunities for sustainable wood.
Developed in Norway, the patented Kebony technology, which has taken years of research and development, enhances the properties of sustainable softwood with a bio-based liquid. The process permanently modifies the wood cell walls giving Kebony premium, hardwood characteristics, resulting in significantly improved durability and structural stability. Recognised as a Technology Pioneer by the World Economic Forum and six times listed as a Global Cleantech 100, Kebony has been embraced by international architects, designers and developers.
Philippe Muyters, Flemish Minister for Work, Economy, Innovation and Sports commented: "This new factory is certainly a welcome addition to the region. The creation of new jobs and opportunities for local people, in addition to substantial investment will contribute significantly to a thriving economy, an essential component for this area to grow and strengthen its identity. It is my pleasure to welcome Kebony to Flanders and I wish you every success with this endeavour."
Christian Jebsen, CEO of Kebony, added: "On behalf of Kebony and our dedicated investors, we are thrilled construction is now underway and look forward to the start of production. With increasing demand for our environmentally friendly, high-performance wood, we can't wait to see what the future has in store for Kebony."
Kebony thanks the Minister for the warm welcome given by various Flemish governmental institutions, and for the swift cooperation offered by the landlord, the Scheldt Left Bank Corporation.