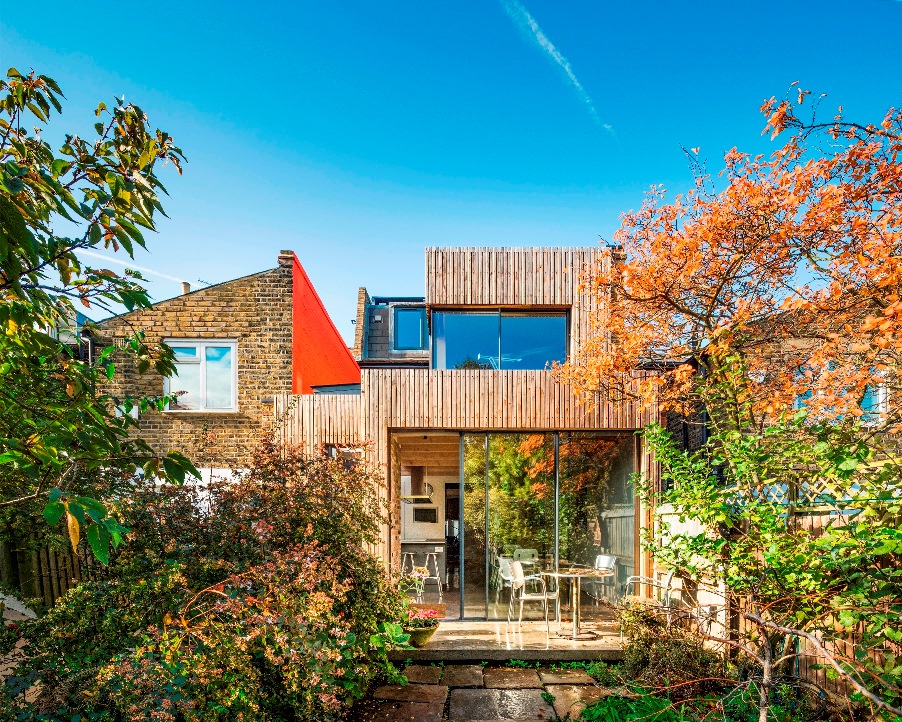 Waind Gohil+Potter Architects (WG+P) have sensitively transformed a 19th Century cottage in Wandsworth by incorporating a revolutionary extension, fit for the modern day. Initially the owners had faced difficulties with the original extension, which let wind in and had a leaking roof; therefore they were keen not to make the same mistakes. Kebony – a beautiful, durable and hardwearing wood recommended by leading architects – was chosen to clad the exterior façade of the house.
Ann Pasola lived in her two-bedroom terrace for 15 years before submitting a planning application for an extension to the council. Having relied on a builder without the instruction of an architect, Ann ended up unhappy with the end result and contemplated selling the house. However, an opportunity to relocate to New York with her now husband Chris Grover came up and it was agreed that instead Chris would sell his house in Hammersmith and use Ann's Wandsworth home to store their furniture whilst they were away. The pair returned to the UK in 2009 and made the decision to embrace the prime location of the Wandsworth cottage and transform the property into their forever home.
WG+P were tasked with finding a solution to the leaks and designed a contemporary extension sympathetic in form and rhythm with the neighbouring terraces. The old extension was demolished and replaced with a more impressive structure, comprising exposed beams and a polished concrete floor; sliding doors from the kitchen were installed to enhance connectivity to the rear garden, while an internal pocket door separates the original and modern parts of the house.
Extensive research confirmed the couple's decision to use timber as the prime material for the extension façade, but in order to avoid the same mistakes that occurred with the initial extension, it was necessary to choose a durable and low maintenance wood. This, combined with a need for a lightweight and tactile material and an ambition for the extension to be environmentally sustainable, made Kebony the obvious choice. The owners were also instantly impressed by the aesthetic appearance of the cladding which adopts a beautiful silver grey patina as it develops over time.
Developed in Norway, the patented Kebony technology uses an environmentally friendly process, which permanently enhances the properties of sustainable softwood with a bio-based liquid derived from agricultural crop waste. By polymerising the wood's cell walls, the wood gains greatly improved durability and dimensional stability, giving it characteristics similar to those of tropical hardwood. Kebony timber is easy to work with; it can be processed in the same way as hardwood.
Ciara McInerney, Project Architect with WG+P commented: "The challenges for Wiseton Road were comparable to many London Victorian terrace houses; disparate internal floor levels; poor connectivity to the rear garden; low floor to ceiling heights within the former 'closet wing' back extension and poor natural light.
Our sensitive reworking of these incommodious spaces and introduction of natural materials and light formed a refreshing transformation to the property. Kebony was the perfect material which was installed in a matter of days. The finished product beautifully connects the garden to the house. WG+P work extensively with timber and would certainly consider using Kebony in the future."
 Adrian Pye, International Sales Director at Kebony added: "The team at Kebony is delighted to hear how happy the owners are with the final product. Kebony's versatility has once again proved its impressive characteristics, transforming a property which was previously thought of as a liability into a forever home, which is no mean feat. The owners and the architects at WGPA have created a masterpiece and we would love to work with both parties in the future."