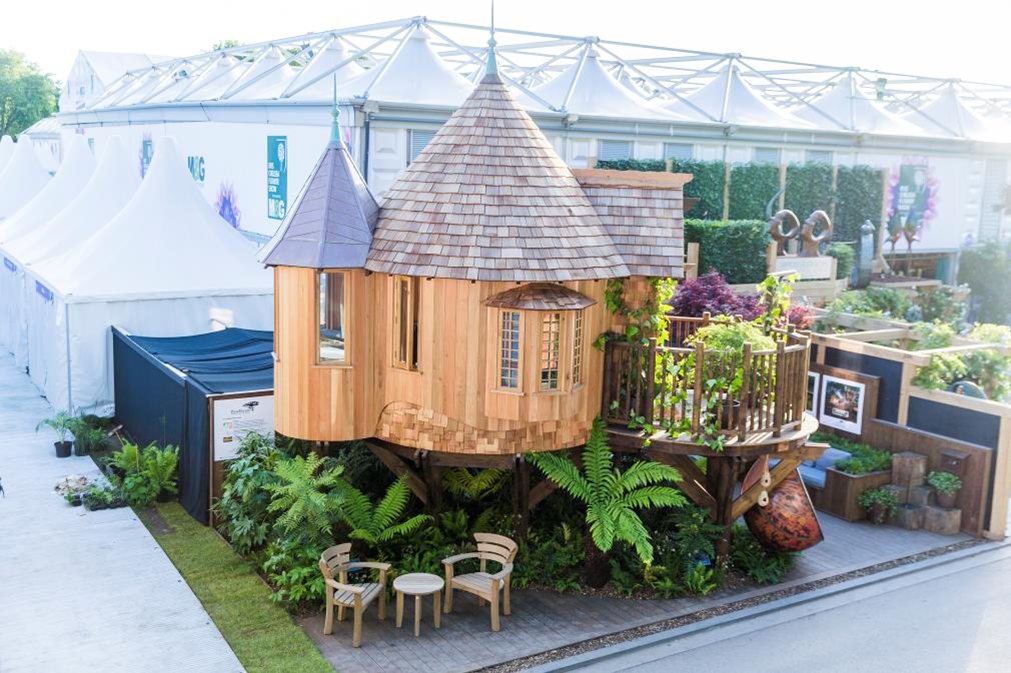 Blue Forest is delighted to announce that it will be exhibiting a luxury, handcrafted tree house at the RHS Chelsea Flower 2017. The tree house made from Kebony, a beautiful wood recommended by leading architects, will offer the public a rare opportunity to experience the quality and charm of Blue Forest's bespoke tree house creations.
Located on the show's prestigious Main Avenue, the stand will feature a natural woodland planting scheme designed by Architectural Plants, a prestigious nursery with an enthusiasm for the sculptural qualities of trees and quirky or unusual plants.
Finished with premium grade Cedar cladding and featuring a copper turret, the Blue Forest tree house is designed primarily as a garden hideaway. There is plenty of space inside for the family to entertain friends or relax with a book in the comfy window seat. Those with an eye for detail will spot numerous other bespoke touches including copper finials, intricate rope work and a bespoke interior design scheme.
The woodland planting is set against sustainable Kebony timber decking and lining of the bench and walls, which was chosen for its beauty, environmental credentials and hardwearing characteristics. Kebony's revolutionary technology is an environmentally friendly process which modifies sustainably sourced softwoods by heating the wood with furfuryl alcohol – an agricultural by-product.
"We have worked hard to develop a reputation as the world's leading tree house experts. This year's tree house will be the largest we have ever exhibited at the Chelsea Flower Show. We are delighted to be on Main Avenue this year and can't wait to experience the vibrant atmosphere of the show!" Andy Payne, Founder Blue Forest
Blue Forest is an award-winning company that specialises in the design and construction of luxurious tree houses and unique sustainable buildings. Since our original concept took shape in 2003, Blue Forest has established a reputation as the world's leading tree house consultancy, renowned for designing buildings that reflect the environment in which they are built.
Combining creativity and craftsmanship, Blue Forest has undertaken contracts of all sizes around the world from fabulous kid's play dens to luxurious garden retreats, treetop offices and even a tree house village. They design beautiful treetop structures for client's gardens and estates, as well as larger developments such as 'The Treehouses' at Chewton Glen Country House Hotel and adventure play grounds for The National Trust. Each project is a celebration of wood and natural materials and is finished to the highest standard by experienced craftsmen. The creative team can design a sanctuary among the trees to provide family's with an experience like no other.
Two tree stilt walkers will be circulating the Chelsea Flower Show directing guests to visit the luxury treehouse.