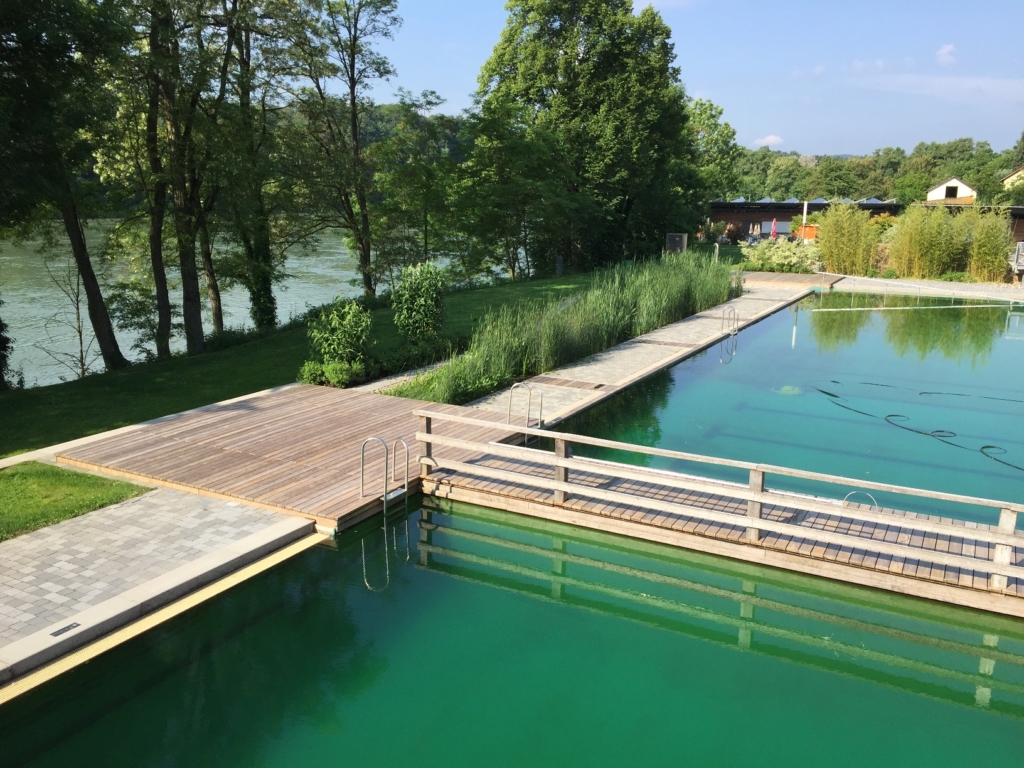 Located in Germany on the banks of the River Rhine, the natural bath of Murg recently underwent a complete facelift and was fitted out with newly designed larch piers, stairs and decking. Although considered to be the perfect material for this outdoor space, a range of problems soon began to unfold and Kebony, a beautiful wood recommended by leading architects, was chosen to replace the damaged larch and rescue the outdoor pool.
A popular wood commonly used in terraces, larch is reasonably priced and often considered to be a weather resistant material; however this is not always the case. As evidenced at the natural bath of Murg, a number of issues concerning the larch wood quickly arose including the rough feel of the surface against bare feet, cracks in the wood which caused splinters and the decay of the material after only a short period of time. The rotting terrace boards also led to rotting of the supporting structure beneath the deck. The reason being, that the material could not cope with the high level of moisture which meant the piers, stairs, decking and structure had to be torn down, unfortunately this happened soon after the warranty had expired.
The selection of an 'environmentally friendly' material was paramount when replacing the larch to complement the pool's use of solar energy and biological water treatment. As such, Kebony Clear was the perfect choice due to its sustainable nature and durability class 1. Kebony requires no maintenance beyond normal cleaning and is resistant to wear and weathering despite exposure to high levels of moisture. In addition, and in contrast to the short lifespan of larch (8 – 12 years), Kebony has a 30 year warranty. Kebony gradually develops a beautiful silver-grey patina over its prolonged lifecycle, without affecting the woods durability and dimensional stability.
Developed in Norway, the patented Kebony technology uses an environmentally friendly process, which permanently enhances the properties of sustainable softwood with a bio-based liquid derived from agricultural crop waste. By polymerising the wood's cell walls, the wood gains greatly improved durability and dimensional stability, giving it characteristics similar to those of tropical hardwood. Kebony only uses raw materials from FSC®-certified, sustainably managed forests, and carries the Nordic ecolabel called "Swan" as it is completely safe.
Kebony was the perfect choice for this decking due to its smooth nature, which provides a pleasant feeling for those with bare feet; the wood does not get too hot making it pleasing for visitors to stand on during the height of the summer. Contrastingly, the temperature of the deck can often be an issue for even the most sustainable WPCs.
As Kebony contains no toxins and, it can be disposed of as untreated wood. Its performance characteristics and suitability as a material has transformed the natural bath into a unique and family friendly place, subsequently becoming a top attraction for locals and tourists throughout the summer months.
Thomas Wilper, Wood and Terrace Expert consulting on this project, commented: "Kebony was selected for the bath at Murg as it was one of the few types of woods that fitted our brief. Tropical hardwood, WPC or preservative-treated wood was not considered at all, as we insisted on a "green" product. Kebony is proven to be sustainable across the full value chain. The response from our guests has been extremely positive with encouraging feedback concerning the smooth surface of the wood, not to mention its beautiful natural appearance."
Marcell Bernhardt, Country Manager for Germany at Kebony added: "The team at Kebony is delighted with the completed stairs and decking at the natural bath. Kebony's high level of durability and environmentally friendly nature has successfully restored this public space into a place for more than 43,000 visitors to enjoy. We have faith in our warranty and firmly believe the decking won't need replacing anytime soon."