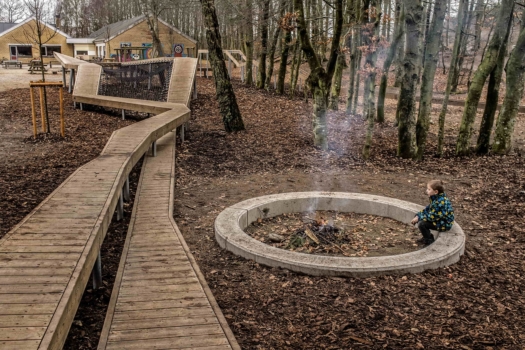 Located in the Rebild Municipality, northern Denmark, Skørping School has created an interactive playground made from sustainable Kebony wood. The project was selected as one of the winners in a campaign by Danish Realdania, with an emphasis on encouraging the students to be more energetic, particularly those who normally lead less active lives. The venture, headed up by Danish landscape architect firm VEGA Landskab, perfectly complements the natural setting of Skørping School, encouraging participation and learning amongst students and the local community through an active interaction with nature.
During the planning process, a thorough consultation was conducted, with members of the community, staff and pupils of the school, and a number of local stakeholders invited to discuss various aspects of the project based on their interests and the functions they needed in their everyday life in order to make the playground attractive to both the students and the local community around it.
The playground encompasses three distinct elements – at the forest edge a dedicated zone unites the transition from schoolyard to forest, the overgrown plants and weeds were cut back and new plants are added. A 'forest loop' runs through the playground, comprising a raised wooden walkway made from Kebony which weaves along the schoolyard and into the woods. Incorporating various activities along its route, the path includes a balance beam, ladders, benches and a treetop house. Bordered by this forest loop is an area dedicated to communal recreational activities, including basketball courts, swings, picnic tables and a skate park for students of all age groups to enjoy.
Kebony was selected for the 'forest loop' walkway due to its hard wearing qualities that can withstand exposure to the elements without splintering, making it a safe and fit for purpose wood, suitable for use in a playground. The patented Kebony technology is an environmentally friendly process, which modifies sustainably sourced softwoods by heating the wood with furfuryl alcohol – an agricultural by-product. By polymerising the wood's cell wall, the softwoods permanently take on the attributes of tropical hardwood including high durability, hardness and dimensional stability, without the need for tropical deforestation. This made it the perfect material for the walkway, which will be exposed to the elements all year round.
Beyond structural qualities, Skørping School was keen to ensure that the wood used was sustainably sourced, as one of primary motivations for the project was to encourage interaction and appreciation of the surrounding woodland. The Kebony technology lowers demand for tropical hardwoods by providing an alternative timber with comparable performance qualities, which can be grown sustainably.
Anne Galmar, Landscape Architect and Partner at VEGA Landskab commented: "We are very happy about the success of this project as we see the kids just love it, using the loop exactly as we imagined. The Kebony wood fits beautifully into the surroundings, both the natural setting of the forest and the more urban parts with the Skate Park and areas for ball games. We have already used Kebony for Vestvolden playground (built in 2012), so we can see the nice way it weathers, and appreciate that it is safe and toxin-free for the kids."
Mona Gøtske, Sales Manager at Kebony said: "We are absolutely thrilled with this latest project; all three aspects of the new playground are of the highest quality design and will be a fantastic addition to this school."
Visit www.kebony.com