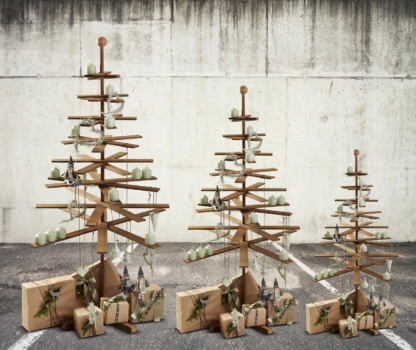 This autumn, Habitree is launching a stylish and eco-friendly Christmas tree made from sustainable Kebony wood. Danish designer, Jonas Støvring, first developed the idea while working for the Randers microbrewery in Denmark which used Kebony timber to build premium boxes for packaging their beer bottles. The process of manufacturing these boxes left the distillery with excess off-cuts of wood, with which Jonas created a small tree as a way of upcycling the spare materials; the resulting design was so clean and striking that the designer teamed up with entrepreneurs Søren Bach and Jan Strandkvist and decided to establish Habitree as an individual start-up company.
Comprised of overlapping stacks of Kebony wood, these unique and beautifully crafted Christmas trees provide the ultimate alternative to the typical Christmas Fir, although the Habitree's aesthetic simplicity makes this an eye-catching sculpture that is not just for Christmas. The bespoke trees are a minimalist, stylish and sustainable addition to any household or workplace. Available online from October, the Habitree can be individually shaped by the designer and decorated with candles or more traditional decorations during the festive season.
Kebony, the sustainable alternative to tropical hardwood was selected by Habitree both for its aesthetically clean finish and sustainable credentials. Developed in Norway, the patented Kebony technology is an environmentally friendly process, which modifies sustainably sourced softwoods by heating the wood with furfuryl alcohol – an agricultural by-product. By polymerising the wood's cell wall, the softwoods permanently take on the attributes of tropical hardwood including high durability and dimensional stability, without the need for tropical deforestation or environmentally damaging treatment. The Habitree is produced from FSC®-certified Kebony wood types. All Kebony woods carry the Nordic Ecolabel called "Swan".
This unique indoor tree is created for those who enjoy Scandinavian design and want to celebrate sustainably. The Habitree can be used all year-round, ultimately reducing the number of trees that are cut down each year during the Christmas period, ensuring that the Habitree works successfully as both a design feature and an environmentally responsible product. The product range includes three different sizes (95cm, 125cm, 180cm) and two different wood types. Kebony Clear is dark brown, with a smooth knot-free surface, while Kebony Character is more rustic, and has the traditional Nordic style. All products are ideal for both the home as well as offices and retail spaces.
Jan Strandkvist, Co-founder of Habitree commented: "Kebony is the perfect material for the Habitree – it is long lasting, beautiful, and it comes with all necessary certifications and eco-labels, in order to truly celebrate responsibly."
Sabine Domayer, Marketing Manager at Kebony added: "Habitree's designs are stunning and can truly enhance any household or office space. We are thrilled to be working with Habitree as a company that shares our values of promoting sustainability."
To order your Habitree from 1st October 2016, please visit www.habitree.dk
Visit www.kebony.com