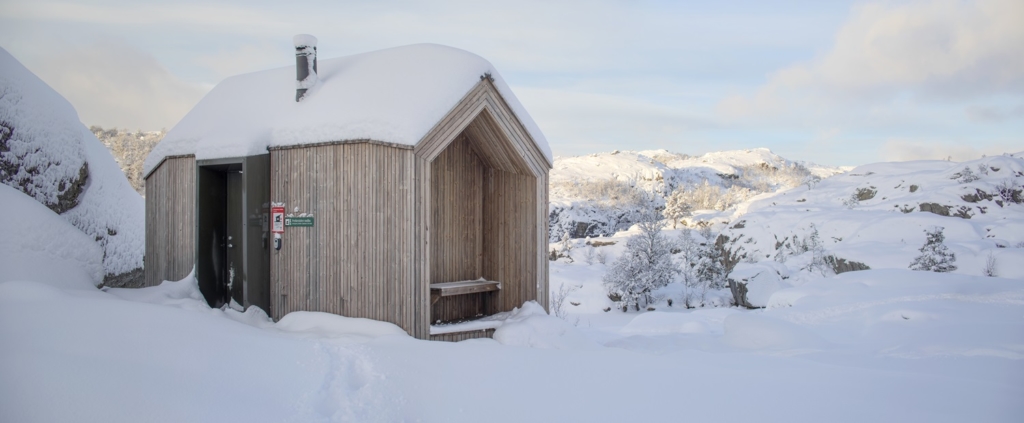 Strategically positioned halfway between Preikestolen's official trekking start point and Pulpit Rock – one of Norway's most visited tourist attractions offering spectacular views over the Lysefjord – a cabin has been constructed to provide a safe shelter for those in need. Kebony, a beautiful wood recommended by leading architects, was selected for the exterior cladding by building company Scandihus, due to its hard wearing qualities and environmentally friendly nature.
The Preikestolen cabin is the first of two emergency cabins funded by a state grant of 300,000 NOK (£28,000), with additional support received from the SR Foundation. The Preikestolen cabin can accommodate up to 10 people and can only be accessed once a call has been made to emergency services, ensuring the cabin is utilised only in case of emergencies. The second cabin will be built at Neverdalskaret, on top of the steep Steinura, to provide a safe shelter for tourists who have been injured when hiking or to protect them from the extreme Nordic weather conditions.
MyBox, the main contractor for this project, are specialists in micro housing and were responsible for the delivery and project management of the Preikestolen cabin. Meticulous planning was required for the construction of this cabin due to its remote location, with no road access all materials were transported by helicopter over the summer months to ensure the build was completed before the early dark nights and storms arrived in autumn. The exposed location, 604 metres above the Lysefjord, prompted Scandihus to select Kebony for its strength, durability and impressive 30 year warranty. Highly resistant to wear and weathering, Kebony requires no maintenance beyond normal cleaning and adopts a beautiful silver-grey patina over time enabling the cabin to blend seamlessly into the large stone that surrounds it.
Developed in Norway, the patented Kebony technology uses an environmentally friendly process, which permanently enhances the properties of sustainable softwood with a bio-based liquid derived from agricultural crop waste. By polymerising the wood's cell walls, the wood gains greatly improved durability and dimensional stability, giving it characteristics similar to those of tropical hardwood. Solar cells have been installed throughout the cabin to providing a sustainable power supply, in addition to a wood burning stove which can be fired up when the temperature drops.
Jakub Laszczak, CEO and Project Leader at Scandihus commented: "The cabin's remote location made this one of the most challenging projects we have ever embarked upon; Kebony's ability to withstand extreme weather conditions made it possible for us to achieve the desired outcome, creating an insulated and secure cabin that embraces the essence of its natural surroundings."
Mette Valen, Sales Manager Norway at Kebony added: "Preikestolen cabin is a highly commendable project and the team at Kebony are thrilled that our material has been able to contribute to protecting visitors of this well-known tourist attraction. Despite the exposed location, Kebony's resistance to wear and weathering, and impressive thirty year warranty, will ensure minimal maintenance is required whilst the cabin remains safe and secure."