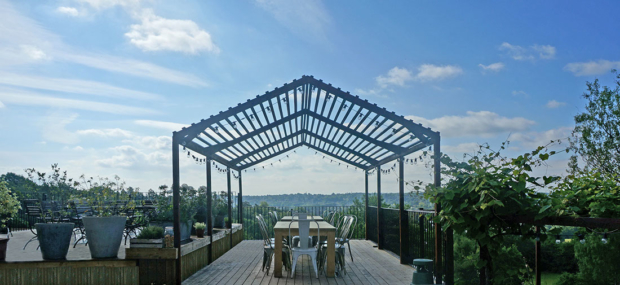 The Beacon is a charming family restaurant and bar located in Royal Tunbridge Wells, which has recently completed construction of a roof terrace made of sustainable Kebony decking. Designed by Ben Chandler, this terrace was built to take advantage of the restaurant's idyllic location, set within seventeen acres of picturesque countryside which boasts three beautiful lakes and panoramic views across the garden of England.
The Beacon is part of a collection of dining experiences included in the 'I'll Be Mother' group, dedicated to creating meaningful places that bring people together and create memories. The idea behind the terrace was to encompass the hospitable ethos of the 'I'll Be Mother' Family and that of Pete Cornwell, the owner of the restaurant, to create a warm and welcoming atmosphere. The terrace provides a large open space with uplifting views for visitors to reconnect with the environment and enjoy the beauty of a summer afternoon or a crisp spring evening.
One key requirement when planning this new addition to the restaurant was to ensure the decking could stand up to the often testing British weather conditions. As the terrace is predominantly south facing, the decking is often exposed to the elements thus requiring a material that would not deteriorate over time or require expensive treatment to maintain. Kebony was the material chosen for the decking due to its hard-wearing qualities. The initial rich brown colour has weathered naturally to a silver-grey patina, gradually creating the appearance of an established structure, which perfectly complements the quaint nature of this property.
Developed in Norway, the patented Kebony technology is an environmentally friendly process, which modifies sustainably sourced softwoods by heating the wood with furfuryl alcohol – an agricultural by-product. By polymerising the wood's cell wall, the softwoods permanently take on the attributes of tropical hardwood including high durability, hardness and dimensional stability, without the need for tropical deforestation.
Ben Chandler, Lead Designer at Ben Chandler Landscape and Garden Design commented: "The terrace has played a huge part in making The Beacon the place to come for food, drinks and outstanding views. The decking looks great; it's the first time we've worked with Kebony, but I do always try to use sustainable materials where possible. The colour of the wood is perfect and it has allowed us to fully realise our design without compromising on structural or aesthetic quality."
Kebony's International Sales Director Adrian Pye added "Ben Chandler has done a fantastic job of designing this terrace; it already looks as if it has always been a part of The Beacon. I'm sure the restaurant's clientele will be overjoyed with this new dining space now that it's completed.'