Set on a private estate in the most western part of the South Downs National Park, an exceptional renovation has taken place transforming the existing property, which had been subject to a number of alterations and mismatched extensions, into a futuristic farmhouse designed by AR Design Studio. Kebony, a beautiful wood recommended by leading architects, was selected to clad the exterior façade of The Farmer's House and subsequently unite the original property with its revolutionary extension.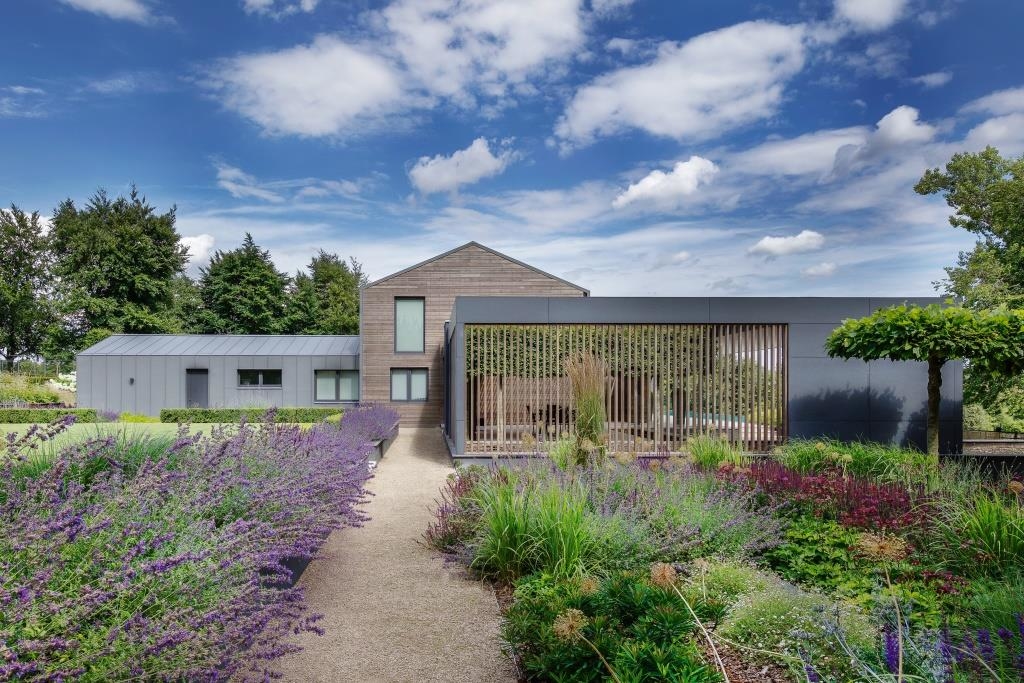 The owners of this farmhouse required a completely self-contained yet adjoined annex that would provide a space for their children and grandchildren to stay when they visited. Following a number of previous extensions and alterations the main structure of the property looked unbalanced, with each addition appearing detached from one another. AR Design Studio successfully transformed the farmhouse by fusing together the original house and the annex by a glazed partition to ensure it strikes the perfect balance with an architectural style that is simultaneously traditional and contemporary.
Embracing the traditional geometry of the farmhouse, specific materials and features have been used to tie this renovation together. Skylights have been placed strategically amongst the exterior timber cladding to introduce natural light throughout the build whilst ensuring the owners' privacy is maintained. Additionally, the hidden subterranean mass below, which comprises a bedroom, plant room and enough garage space for two cars, avoids a visual bulk which could otherwise swamp the proportions of the existing house.
Owing to its strong agricultural feel, zinc has been installed on the north elevation of the original property, extending over the roof to provide shade to the south. The remaining facades are clad in Kebony wood to ensure the exterior of the extension works in conjunction with that of the house. The timber cladding acts as a rustic material, which when exposed to the elements, gradually develops a silver-grey patina to blend seamlessly into the remarkable surroundings of the National Park.
Developed in Norway, the patented Kebony technology is an environmentally friendly process, which modifies sustainably sourced softwoods by heating the wood with furfuryl alcohol – an agricultural by-product. By polymerising the wood's cell wall, the softwoods permanently take on the attributes of tropical hardwood including high durability, hardness and dimensional stability, without the need for tropical deforestation, resulting in a high performing, beautiful wood product.
Andy Ramus, Director at AR Design Studio, commented: "Without Kebony we would not have been able to achieve our intended design for The Farmer's House. This incredible material enabled us to unite a modern extension with a traditional building that now sits perfectly in its idyllic countryside setting. The natural aesthetic of the Kebony cladding, alongside its high quality credentials proved Kebony was the right material for the job and we can't wait to see how it adapts over time."
Adrian Pye, International Sales Director at Kebony added "The Farmer's House is an extraordinary project which perfectly demonstrates both the visual and practical qualities of Kebony wood. AR Design Studio has created an architectural masterpiece which we anticipate will become an award-winning project for years to come; we can't wait to see what the future holds for this exceptional farmhouse."