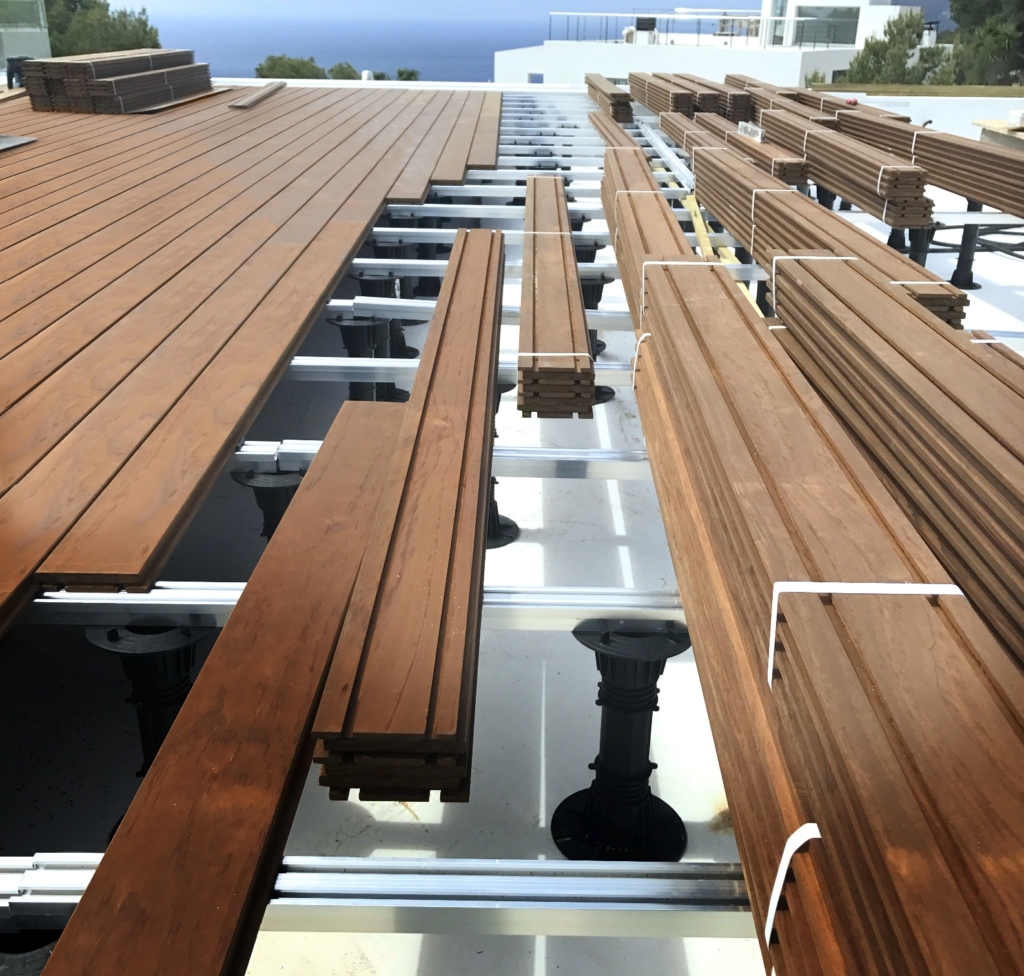 Mario Rodriguez and his team at Yvyra, which specialises in wood floorings, have recently completed the installation of a roof terrace for an impressive private villa located in Vista Alegra, on the south west coast of Ibiza. Kebony, a beautiful wood recommended by leading architects, was installed by Mario and his team using the innovative Exterpark Magnet patented decking system: 100% accessible wood deck along with invisible profile for the terrace, which enjoys panoramic views of the island.
Through the choice of Kebony wood and Exterpark decking system the exterior wooden floor has the appearance and comfort expected from indoor flooring. The patented technology of Exterpark's invisible profile and natural aesthetic of Kebony timber creates a smooth, contemporary finish without screws on the surface or gaps between the boards. The system also improves the practicality and safety of the terrace, preventing high heels, food and valuables from slipping through the gaps.
Exterpark Magnet decking was developed by Yvyra in 2014, it is the first system which makes it possible to remove and put back any single board with a one-handed tool. Boards are clipped in and out with great ease and rapidity, decreasing installation time and improving product features such as accessibility, functionality and longevity. The system features special grooves on the underside of the decking boards that slot onto magnet clips mounted on aluminium joists. There are spacers between boards to allow for expansion and drainage, and blocking units prevent movement keeping the boards in the same place. This pioneering system is a straightforward technique, which meant it took just three weeks to install the deck of this beautiful private villa and, thanks to low-maintenance Kebony wood, the deck will not require any additional treatment beyond normal cleaning. The sustainable timber is highly resistant to extreme climates, and therefore a fitting choice for the exposed location of the terrace beside the sea.
Developed in Norway, the patented Kebony technology uses an environmentally friendly process, which permanently enhances the properties of sustainable softwood with a bio-based liquid derived from agricultural crop waste. By polymerising the wood's cell walls, the wood gains greatly improved durability and dimensional stability, giving it characteristics similar to those of tropical hardwood. Over its prolonged lifecycle, Kebony gradually develops a beautiful silver-grey patina without affecting the woods durability and dimensional stability. Kebony was the perfect choice for this decking due to its smooth nature, which provides a pleasant feeling for those with bare feet, and the wood does not get too hot making it the perfect space for the owners and guests to enjoy during the height of the Ibizan summer. In addition, Kebony is FSC®-certified and carries the Nordic Ecolabel called Swan.
Mario Rodriguez, Export Director of Yvyra comments:  "Kebony played an important role in the success of this project. The owners are now able to enjoy their private terrace which was particularly fast to install, taking just three weeks and accessing any part of the underfloor easily. Both the Client and the Architect were incredibly pleased with the final outcome and I am looking forward to using Kebony again."
Adrian Pye, International Sales Director at Kebony added: "We are delighted to be working with Mario and his talented team at Yvyra; this innovative decking system is a real feat of ingenuity and Kebony has the stability and durability to ensure the boards remain in place. We are excited to continue working with Mario and to discover how this system can be further developed."