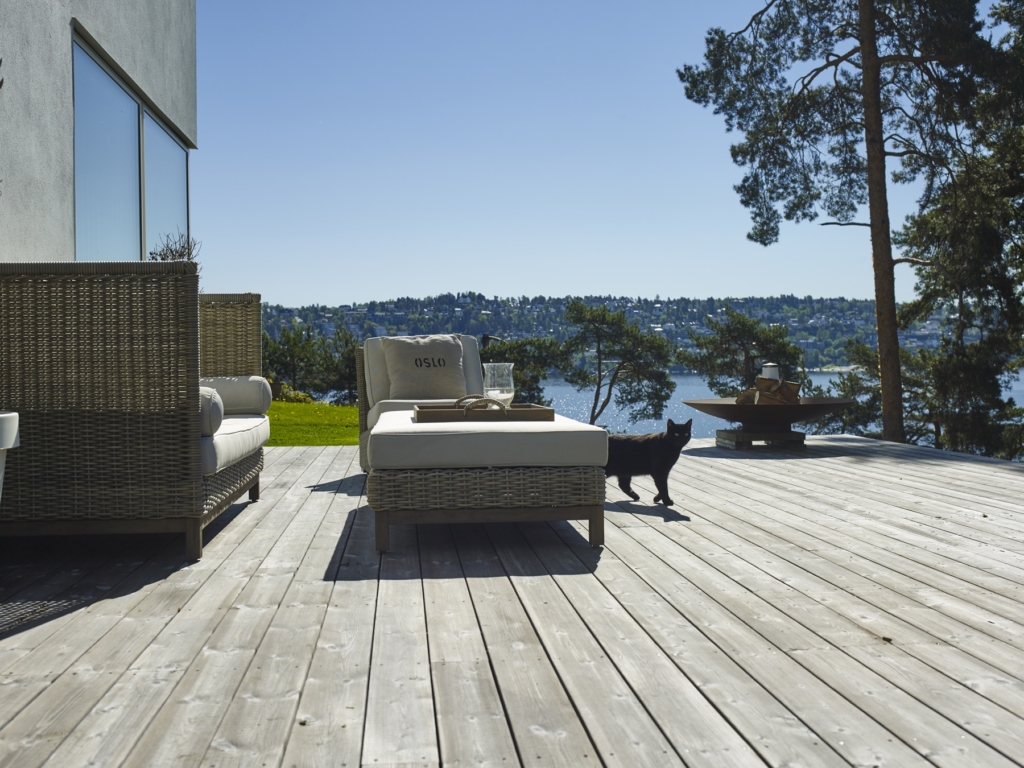 The Berg-Nielsen family have just completed their imaginatively designed private terrace on Malmǿya island, close to Oslo, Norway using Kebony, a beautiful wood recommended by leading architects. The terrace is divided into three sections providing a comfortable lounge area, a place to enjoy meals and an outdoor kitchen; in addition the terrace includes secret trapdoors to provide storage in a practical and beautiful way.
This terrace will act as an aesthetic and functional extension of the house – crucial for the family's sociable lifestyle – surrounding the house and with the Oslo fjord as a backdrop. For creative effect, the owners decided to play with the lines of the terrace boards to develop an elegant and eye-catching pattern where the boards connect. Adding to the overall design with smart solutions, the Berg-Nielsen family have skilfully incorporated an element of storage through the use of trapdoors, which are hidden within the terrace for storing outdoor cushions and a range of garden products. The terrace also included a Kebony pergola with built-in electricity which is mounted on casters and can therefore be moved around the terrace.
Kebony is highly resistant to wear and weathering and subsequently a fitting choice for the terrace and pergola. Although a natural material, the wood requires no maintenance beyond normal cleaning and can stand up to testing conditions far better than untreated softwood. Over time, the wooden terrace has developed a silver-grey patina, which complements the surrounding natural landscape and provides a graceful contrast to the simple white façade of the property.
Developed in Norway, the patented Kebony technology uses an environmentally friendly process, which permanently enhances the properties of sustainable softwood with a bio-based liquid derived from agricultural crop waste. By polymerising the wood's cell walls, the wood gains greatly improved durability and dimensional stability, giving it characteristics similar to those of tropical hardwood. Kebony only uses raw materials from FSC®-certified, sustainably managed forests, and carries the Nordic ecolabel called "Swan" as it is completely safe.
The Berg-Nielsen family were so impressed with Kebony that they made greater use of the material throughout their home with a new staircase, shed, woodshed and stand for rubbish bins. Additionally, the decision was made to further integrate Kebony to clad small sections of their house, breaking up the white façade and adding interest to the overall style.
Ole Jørgen Berg-Nielsen, Homeowner commented: "As a family, we could not be happier with the final outcome; Kebony has helped us to achieve all that we intended and more. Although not physically adding an extension to our house, the new terrace offers a real sense of space. We are thrilled with the beautiful appearance of the Kebony wood and as a result we have tried to incorporate it wherever possible throughout the house." 
Mette Valen, Sales Manager Norway at Kebony added: "We are thrilled to hear how Kebony has contributed to the family's overall vision for the garden as a gathering point for friends. The silver-grey appearance of the wood is certainly the perfect fit for the garden overlooking the Oslo fjord and it is wonderful to hear how the family have embraced the versatility of the wood elsewhere."