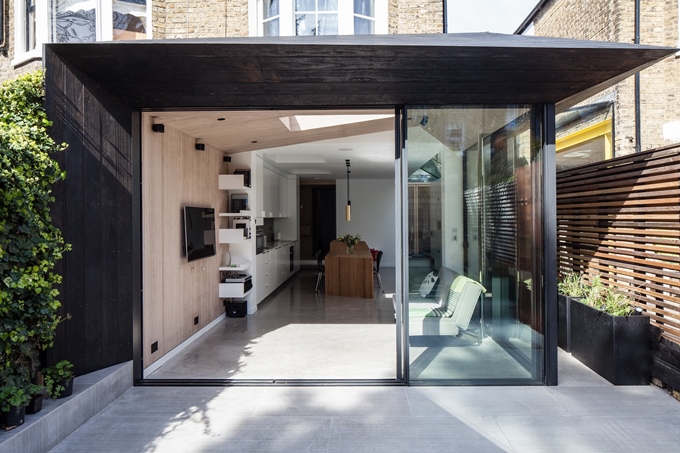 Located on John Ruskin Street, in the vibrant London Borough of Southwark, architects David Stanley and Romy Grabosch have recently transformed their ground floor flat in South London into an outward looking garden-centric dream home by adding a striking timber-clad extension, fit for the modern day. Charred Kebony cladding by Shou Sugi Ban was chosen to provide a long-lasting and attractive timber finish for both the rear and side extension.
Throughout his career David has worked on a number of high profile projects across Montreal, Paris and London, including work on the European Parliament in Strasbourg and the London Borough Viaduct, which sits alongside the existing rail bridge running over Borough Market. Designing high-quality residential developments is David's speciality and his personal project is nothing short of perfection, living up to his mantra that "life is too short for bad design decisions." Romy is also an architect, working at Jestico+Whiles, and has worked on a number of high quality, award-winning projects.
The vision for the project was to create a light and open living space for the family by improving the accessibility of the garden and utilising the space as an additional room. This carefully planned extension caters for the needs of a growing family, when the continued rise of London house prices makes moving less appealing. Sustainability and environmental conservation was an essential element of the design and Kebony Clear "Minami No" by Shou Sugi Ban was selected by the architect for its sustainable qualities and charred aesthetic – the timber cladding was particularly well suited to the realisation of the extension's unique geometry. The Kebony technology is an environmentally friendly-patented process, which modifies sustainably sourced softwoods by heating the wood with furfuryl alcohol – an agricultural by-product. By polymerising the wood's cell walls, the wood gains greatly improved durability and dimensional stability, giving it characteristics similar to those of the best tropical hardwood.
Historically Japanese carpenters sourced driftwood from the coastlines of Japan, both for its impressive durability and distressed appearance, after being subjected to salt water and harsh weather conditions. Over time it became increasingly difficult to source this driftwood due to high demand for such a hardwearing product. As a result, Japanese carpenters chose to create the desired effect by burning or weathering timber to give the original wood a charred and fragile finish. Shou Sugi Ban, a Japanese term which translates to 'burnt cedar board', is a UK based company that manufactures wood using this ancient technique of burning, brushing or pre-weathering timber and has recently added Kebony to its list of products to deliver a product of unique and intriguing appearance.
When asked about the objectives for their project, Romy and David stated: "From the outset, we were keen to ensure this redevelopment suited the requirements of our growing family. Therefore, in true London style, the strategy for development was "Don't Move Improve", and we turned the layout on its head to create a large open living and dining space that spilled out into the garden. The choice of charred Kebony cladding by Shou Sugi Ban provided a durable wood that requires no maintenance beyond normal cleaning which was especially easy to work with. I would certainly recommend this material to my own client's, alongside fellow architects."
Adrian Pye, International Sales Director at Kebony added: "It is brilliant to see how Shou Sugi Ban has worked again with Kebony cladding; the final product is both immensely durable and a unique eye-catcher. As the architects and the owners, we would like to congratulate Romy and David on their imaginative designs and remarkable ability to bring their vision to life."